Author: Laura Tommasi  •  Reading-time: 7 minutes

•
Story of my life – Italy in the mid 90es. After years of very frustrating (and useless) leafleting of my CV at every company corner, in several cities (Milan, Turin, Genoa, Rome), where I was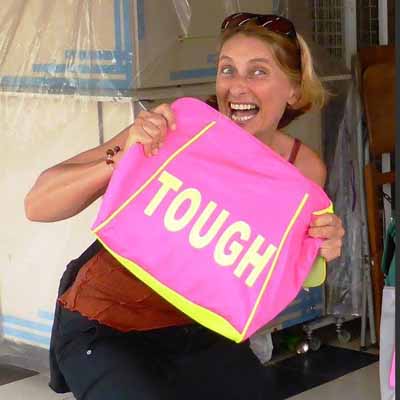 constantly hearing, like a broken record, the same negative answer. So I finally decided to move away from the dream of being employed by an enterprise and just went to work as a Freelance.
In 1996, basically out of the blue, having the same age of Christ and at the peak of my marketing and management consulting career, I won a scholarship to Japan, to which I applied just for fun as a sort of experiment. Sponsored by EU, it was indeed quite a unique and prestigious one: 18 months, very well paid, to study and become a specialist of Japan market and Japanese business logics – a real dream!
When I was talking about it, my parents and my (numerous) friends and acquaintances, where looking at me as I was gone mad: ALL of them were strongly suggesting me NOT to go! EVERYBODY – but two: one senior consultant who gave me a guide book of the pacific islands: "my dream is to travel there one day, as Japan it's in the region, you go ahead and tell me how it really is …". And a very good jewish friend: "Keep well in mind that, if you don't go, you risk to regret it for all your life …"
Pressure and guilt
Despite the huge pressure (and enormous sense of guilt) created by my (well-travelled) family, I finally told to myself: "what the heck, 1,5 years – it's not a lifetime. If I miss this train, for sure another one like this will never pass!" and I accepted the scholarship!
Therefore, without even knowing how to say "YES" and "NO" in Japanese, and being totally unaware of what was needed for an adventure 18 months long in a country located literary on the other side of the planet, I put 3 pictures, few clothes, few books and a pocket English-Japanese dictionary on a suitcase and off I went to Malpensa-Airport, accompanied by my parents and one of the Milano friend deeply convinced I was totally crazy…
The point of no return
Definitely that was THE point of no return! The 18 months become 45 (during which I challenged different careers when the protection and comfort zone of scholarship mama came to an end), and indeed it was the most intense, enriching and funniest period of my life (even though not certainly an easy one).
Years passed by incredibly fast and, my decision to repatriate, thorn in doubts, was taken basically because I was tired of being transparent and therefore single for so long. Being Asia – and Japan even more – a real desert in terms of love affairs for a western girl.
In fact (unfortunately for us), it looks like that ALL the Caucasians in the age cluster of 20-50 who (for whatever reason) land in Asia, are severely tainted by the "yellow fever" disease…And actually how to blame them when, regardless how they look like, how many (contacted) neurons they possess and which is their amount of sense of humour, by default all the Asian ladies (apparently genetically submissive) are at their feet!
Only an insane man will challenge his nerves by dating a pretending and opinionated western woman!!!
Hence, as I was not aiming to be a spinster, wishing to bring home with me a piece of Japan, I bought 6 tatami matt, together with a couple of antique tantsu, and packed my stuff, which at that point from an average dimension suitcase raised to 5m3, and shipped all to Italy.
Boosted by experience
Arrived back home, boosted by that unique experience, I right away got (an irrefutable) job offer as an executive at the think tank of FIAT in (greatly provincial) Turin. Job was interesting, co-workers were OK, but, as I said, leaving Italy for the other side of the world was a point of no return, hence after being back home for a little more than one year, in despair, I accepted to go to Germany, where the supposed 6 months become 4 years and where I even managed to find love.
Moving to Germany was quite smooth and easy and the first year I was flying back to Turin every other week, bringing along another piece of my stuff and slowly building up there my Italian-
Japanese home! Life in Frankfurt AM for a meteoropathic Italian who loves the sea and the mountains is not very easy: besides the lack of sunshine for a long part of the year, beaches and skiable mountains are minimum 700km away; nevertheless, as a small consolation, it's plenty of flat cycling tracks along rivers, and quite a number of interesting museums.
Indeed another big difference, it's the chronic lack of friends who unexpectedly ring your door bell to join you for a spontaneous spaghetti dinner and/or a fun chat or to watch a movie…in Germany you definitely need to plan well in advance when/where/how to meet your friends: all Germans seem to have a schedule way busier than the one of the Pope…quite a challenge for a fatalist mentality with the habit of living day by day…
Anyway this culture difference didn't impede me to get married to an autochthonous. And funny enough as soon as I came back for my honeymoon, Fiat in Turin asked me to move back to Italy! Unexpected Shock!
Mission Impossible!
No other choice that to (smartly) quit and look for another opportunity. I happily and luckily complied with the way of saying "when a door closes, a doorway opens" and before ending the notice time I found another job which allowed me to work in Germany for another good year and later on to move to Singapore with a two years contract and the eventuality of traveling all over the region.
Last but not least, the new company paid for a 40ft container. Therefore I had the chance to finally glean under one roof all my stuff scattered for the last 10 years in several cities (aspect which, at that point of my life, was fundamental to me).
Singapore wasn't my first choice, as I was considering it quite aseptic and boring, but I believed it could be a potential bridge to go back to Japan, and one of my good (and extremely funny) childhood friend was living there as well, therefore overall it was a very good start. With a bit of time, effort and great focus I found an awesome apartment, which I fully renovated and which become Home right away: my ultimate nest! The 2 years become 14 – basically without me realizing it!
I divorced.
For unmentionable reasons I took to court the first company who brought me there at first place. While the court case was ongoing, I took a long sabbatical sailing around the world (in Italy you
know when you start a trial but you don't know when you will end it!).
For the sake of visa renewal I accepted a very boring job. I changed four different industries. I challenged a completely new one, yacht brokerage, to follow my sailing passion: basically no income but a lot of fun, and the freedom to travel whenever and for as long as I wanted … which of course I did, according to the depth of my pockets!
Until it become kind of boring to keep living in Singapore, as lots of my friends moved out for several reasons; and quite uneconomic too as meanwhile, according to BBC, it become the most expensive city in the world. The reflection with which I used to tease my brain from time to time: "where to retire", changed into: "where to go next" being the presence of sea and mild weather a MUST have.
Impossible for me to go back to Italy, despite I certainly consider it as the most beautiful country in the world … BUT definitely that's a place just to go on holidays! I'm quite sure that, when resident there, the dream of being a terrorist with the goal of putting a bomb in the parliament during plenary session, could become an obsession!
Thailand and Bali were an automatic thought, but as well, somehow, automatically discarded: on the long run, besides the issues regarding properties, in those places you will always be a "foreigner"; it's basically impossible to completely blend in with locals, and communication can be a true problem. Australia or Fiji too far away. Brazil a bit too dangerous. USA … no way!
Being fluent in French, south of France could have been an option, but I found it a bit provincial though, and lousy airports … then I had an illumination:
Barcelona!
The first and only time I went there (for only 2 days), was a decade ago, and loved it: I knew I must give it a try! I hence managed to go there for 20 days; I bought a bicycle from a (very funny and friendly) Cuban lady (who gave me a lot of tips), and wandered around to get a feel of the city to understand where I would like to live in it. Defined the location , after 3 years of internet and field searching I found a nice apt close to sea, meanwhile the trial with my former company ended and I got the money to buy it.
I started the renovation while I was still living in Singapore, going back and forth on a 6 month basis, I loved Barcelona when there, but still felt Singaporean when I was back home: overall I was clearly not yet ready to cut the umbilical cord with Singapore! The big excuse (to myself!) was not being ready to downgrade and leave my beautiful and big apt to go on a very nice one…which was half the size of my current one: for months I unsuccessfully tried to go around from room to room with red dot stickers to put on few selected items I could bring with me to Spain….clearly it wasn't working!
The inevitable (and common sense) choice was to look for a bigger place in Barcelona and pay it thanks to the Singapore one … It took another year before I finally found a suitable one (a very cool loft in a factory complex near the beach), which was, at this round, almost double of the Singapore one: now I had no more excuses to finally leave and move to my future adoptive country! Another year passed by for the renovation, it was like I was trying to fool myself and to delay the big move…well how to blame me: 14 years in a country is surely a big slice of life.
I arrived in an island populated by 3.2 million people and when I left there were almost 6!
I had the chance to do a very challenging and interesting job (despite how it badly ended!). I witnessed the country change drastically; the dynamic cultural and socio economic growth; the enormous architectural redesign; the sudden substitution of old-ish expat with younger ones together with the inevitable reshaping of the city to their new needs, all extremely interesting and fascinating…
Totally taken by the events (familiar loss to manage, loft renovation and work), I was constantly asking to myself how would I feel when the moment to move would have been there: sadness? discomfort? excitement? When thinking about it, I could not really figured it out…I was only overwhelmed by the idea of dismantling my looking like a bazar nest, insanely full of stuff (accumulated in 30 years of travel and life) to be quite ashamed about it!!!
Well…. At the end, everything happened quite fast in an unexpectedly hectic way!
I contacted and benchmarked 6 shipping company (it's painful when you don't have a company who takes care of your international move!), and started the whole process. A good friend moved in for a month, to help me on the preliminary job which lead to the 4 packing days (during a two weeks' time), done with the professional help of 5 guys engaged for the moving.
A 40ft High Cube container was fully filled with 330 boxes: strange feeling to see a lifetime put inside in a big box, but it was quite a relief as well, as I was tired to live in a place packed with carton boxes.
Zen versus bazar
The totally empty (but a bed) apt was indeed cool: Zen versus bazar! I found (nice) tenants in no time, the second day the apt was put in the market, and I had 12 days to do all the renovation works negotiated with them, before catching my flight back home. Indeed that was a race against time: I don't know how, but I did it!
Definitely that helped as well not to make me realizing that I was going away from Singapore…for good, this time!!!
Of course I was late to my flight, and of course I was INSANELY full of luggage (too many valuable things/document, you simply cannot afford to put in a container in case it get lost at sea!). Luckily and spontaneously a local acquaintance of mine, a new friend, offered to drive me to the airport; we went for dinner before, so my departure looked like it was any ordinary day….but I was actually leaving Singapore after 14 years!!! Exhausted I felled asleep 3 minutes after boarding and woke up 30 minutes before landing, still I wasn't realizing that I moved out of the country for good and that all my stuff was at sea only a week away!
Feeling home
Landing in sunny and colourful Barcelona was nice, I was feeling home already (as I actually had already a home!), and I enthusiastically absorbed the nice and relaxed vibes of the city, and meanwhile was catapulted right away in the preparations needed for the receiving of the container. Nicely (and somehow unexpectedly) my uncle from Tuscany came to help me, as there were still lots of things to fix in the Loft. We were just about perfect when the container arrived at the loading station of the building: it's definitely quite cool and very convenient to live in a former factory, they downloaded everything in no time, the empty space become all of a sudden very full, and the big unpacking challenge started right away.
Five more weeks of hard and nonstop work, 18 hours a day, including random friends passing by Barcelona and asking for hospitality (hence extra cooking and cleaning at the small place)…I was indeed exhausted but extremely happy with the very cool result (even though still some work was needed) so that I wasn't missing at all (nor comparing) my previous Singapore nest! When basically all was in place and I moved in, after 2 days I had to go to Italy for family issues and then on to India for a unexpected project, and then some consequent holydays in the region.
Therefore, as a matter of fact, yet, I didn't have the physical time to think (and therefore feel) that I have moved to a new country!!! Strangely enough I'm not missing Singapore at all, but indeed, since I left, I have been extremely busy and travelled a lot, hence far from being settled in a stable situation where you can finally think over your past and new life…
As few work (and leisure) unrepeatable occasions popped up, it will take another two months before I will be able to go back to Barcelona, to my new home. I feel a bit like a gipsy as I don't even have enough and proper clothing (all in Barcelona!), I indeed do longed for some calmness at home, and moreover I am definitely very curious to see how I will feel once I will be finally there!
Anyway, so far so good. It all looks a bit like a (surrealistic) dream, where all the kind of strange things which happen … are actually very normal!!!
Laura Tommasi